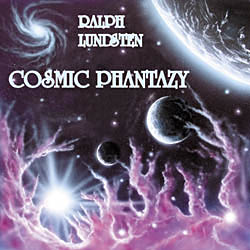 ACD 46 (2003)
Cosmic Phantazy
COSMIC PHANTAZY (Morning of Creation 1981, In the Ocean of Dreams 1984, Alpha Ralpha Boulevard 1979

, Universe Calling 1976)
THE BLUE PLANET 1976
ROBOT AMOROSO 1978
THE PLANET OF WINDS 1976
I HÄNRYCKNINGENS TID (Time of Rapture) 1985
TIME STORM 1980
MARCIA RALPHUS REX 1998
SPACE FUNERAL 1976
SJÄLAVANDRING (The Transmigration of Souls) 1985
MEETINGS 2002
NOCTURNE FOR A NEBULA 1997
GÅNGLÅT FRÅN ANDROMEDA (Marching Tune from Andromeda) 2002
I den här musiken gör vi en resa i Universums oändlighet och i den mänskliga fantasins lika oändliga rymd – den senare är en förutsättning för att förstå den första!
Det finns många slags rymder och huruvida man föredrar den inre eller den yttre rymden eller om man vill resa i tid och rum är en fråga om tycke och smak, om valet av symboler för den personliga längtan vi var och en verkar ha – längtan är vår arvedel!
Tänk att få upptäcka nya världar, att få dyka ner genom molnen på en outforskad planet, eller kanske möta en förälskad robot med varmgång i kärleksmaskineriet…
På vindarnas planet föds en längtans vind, som blåser upp till storm i människohjärtat, sedan stillnar ner och försvinner i det förunderliga dis som ibland belägrar sinnet.
Vi får vara med på en rymdbegravning när den sista människan dött och skeppsandroiden sänder iväg begravningskapseln mot rymdens oändlighet – i evigheters evighet…
Vad månne människan möta i den oändliga rymden och vad händer med henne i de okända dimensioner, där själen vandrar vidare efter jordelivet?
Livet är evigt och på människan väntar oändligheten – med oändligt tålamod!!!
I ANDROMEDA den 1:a juli, anno 2003
Ralph Lundsten
With this music we journey through the infinity of the Universe and the equally boundless space of the human imagination – the second being a prerequisite for understanding the first!
There are many kinds of space, and whether we prefer inner or outer space, or whether we want to travel in space and time is a matter of personal preference and our choice of symbols for the personal longing which each of us seems to have – longing is our inheritance!
Imagine being able to discover new worlds, to dive down through the clouds to an unexplored planet, or perhaps encounter a robot overheated with the warmth of love…
On the planet of the winds, a breath of longing is born which becomes a storm in the human heart before calming again and disappearing in the strange haze which sometimes besieges the senses.
We attend a funeral in outer space when the last human being has died and the spaceship android sends the burial capsule out into the endlessness of space – into the eternity of infinity…
Whatever might we encounter in this endless space? And what will happen to us in the unknown dimensions where our souls continue to wander after our life on earth?
Life is eternal and infinity awaits us – with infinite patience!
In ANDROMEDA, July 1, Anno 2003
Ralph Lundsten