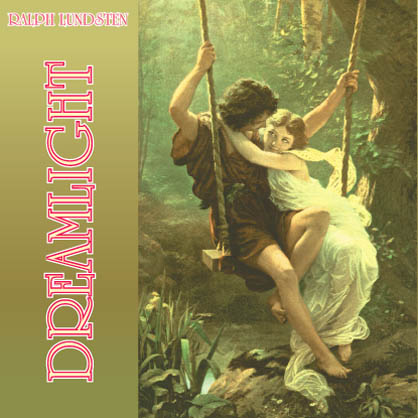 Dreamlight
. Målning
Le Printemps
av
Pierre Auguste Cot
ACD 36-1 (dubbel-CD 2003)
Kärleksdrömmerier (Reveries of love)
A song within
Star of my destination
Lovelight
Drömska dagar (Dreamy Days)
Andromedian nights
Song from beyond
Sailing on a reverie
Poem of love
A unique cosmic day
Alpha Ralpha Boulevard – Ouverture
Alpha Ralpha Boulevard
Hjärtats smultronställe (The Heart's Delight)
Dream Star
Dancing Tonight
Seventeen Forever
The Smiling Sun
Garden of Delight
Att drömma är att skapa och att drömma om det man saknar är oerhört viktigt! Därigenom skapas en möjlighet att det drömda uppfylles! Tänk på att det man önskar och vill tillräckligt starkt, brukar bli uppfyllt – i en eller annan form! Det finns olika slags kärlek att drömma om; till någon eller något, till naturen eller kosmos – ibland till själva varat, livet. Att drömma fram glädje och lycka är stort och den dag då man kan känna kärlek för allt och alla – då är man en fulländad kosmisk varelse!!!
To dream is to create, and to dream of what you lack is extremely important! To do so is to create the possibility that what you dream will come true. If you think strongly enough about what you desire and want, it usually becomes a reality – in one way or another! There are different kinds of love to dream about: love of someone or something, of nature or the cosmos – sometimes love of just being – of life itself. It is a great thing to dream forth happiness and good fortune, and on that day when we can feel love for everything and everyone – then we are truly perfect cosmic beings!!!
Ralph Lundsten
Andromedary & Star Guide
ACD 36-2 (dubbel-CD 2003)
Naturdrömmerier (Reveries of Nature)
I drömmarnas år (In the Year of Dreams)
Vallsommar (Summer Herding)
I sommaren sköna (In the Summer Bliss)
Likt vinden far min längtan (Like the Wind my Longing)
Midvinternatt (Midwinter Night)
Ut i vida världen (Out in the Wide World)
Den förtrollade skogen (Enchanted Forest)
I kärlekens vår (In the Spring of Love)
Vårlängtan (Springtime)
Där somrar bor (Song of Summer)
Solregn ( In Sun and Rain)
I landet Längesen (In the Land Long Ago)
Sommarlängtan (Summer Longing)
Av sommar född (Of Summer Born)
Vinterlegend (Legend of Winter)
Sätt Er behagligt tillrätta och slut Era himmelsblå. Låt de Lundstenska tonerna föra Er till glömda och drömda världar! Följ med till sommarängen och den susande storskogen, vandra på okända stigar och vila vid en porlande bäck. I detta oändliga sagovackra landskap finns även prinsessan Tuvstarrs hemlighetsfulla tjärn, här huserar näcken och den förföriskt undersköna huldran. I slutet av denna musikaliska fantasiresa, åker vi med på en kosmisk slädfärd i en snöflingefylld oändlighetsvärld. Överallt finns ett brus av liv och lust – välkommen!!!
Make yourself comfortable and close your eyes. Let the notes of Ralph Lundsten transport you to forgotten and imagined worlds! Follow along to the summer pastures and the murmuring forest, wander unknown paths and rest beside a babbling brook. In this endless fairy-tale landscape we also find the dark and mysterious lake of the little Princess Sedge Flower; here dwell the water sprites and the temptingly beautiful huldran, the siren of the woods. At the end of this musical voyage of the imagination we take a cosmic sleigh ride through a snowflake-filled world of infinity. Everywhere the murmur of life and delight welcomes you!
Ralph Lundsten
Andromedary & Star Guide