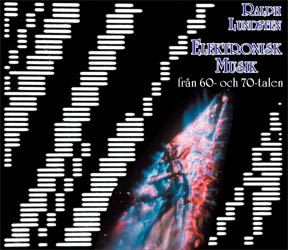 ACD 27 – 30 (2000) CD-BOX MED ELEKTRONISK MUSIK FRÅN 60 OCH 70-TALET
ACD 27: ELEKTRONISK MUSIK
ACD 28: ELEKTRONISK MUSIK
ACD 29: ELEKTRONISK BALETTMUSIK
ACD 30: HORRORSCOPE

ACD 27: ELEKTRONISK MUSIK
THROUGH A LANDSCAPE OF MIRRORS op. 52, 1970


TELLUS op. 32, 1968
FÅGEL BLÅ (BIRD BLUE) op.42, 1969
VINTERMUSIK (WINTER MUSIC) op. 29, 1968: KYLA (COLD), NORRSKEN (NORTHERN LIGHTS), SNÖSTORM (SNOWSTORM), JUL (CHRISTMAS)
FEEL IT op. 37, 1968
MIZAR op. 31, 1968
ACD 28: ELEKTRONISK MUSIK
EMS NR 1 op. 19, 1966
VISIONER AV FLYGANDE TEFAT (VISIONS OF FLYING SAUCERS) op. 25, 1966
OJ (OY) op. 23, 1966
KALEJDOSKOP (KALEJDOSCOPE) op.16, 1965
ALOHA ARITA op. 18, 1965/66
ENERGY FOR BIOLOGICAL COMPUTER op. 40, 1969
ATOMSKYMNING (ATOMIC TWILIGHT DAWN) op. 14, 1964
PÅ VINGLIGA TÅR: (ON TOTTERING TOES) op. 80, 1973: SCENDRÖM (STAGE DREAM), HÅLLISTÅNG (HOLD THE BAR), PAS DE PLASK (PAS THE SPLASH), PERPETUM REPETEUM (PERPETUUM REPETÉUM), NERVDALLRING (NERVOUS TENSION), LA GRANDE PREMIÉRE.
SVIT FÖR ELEKTRONISKT DRAGSPEL (SUITE FOR AN ELECTRONIC ACCORDION) op. 33, 1968: INLEDNING INTRODUCTION), PASTORAL, ESPRESSIVO, FINALE FANTASTICO.
ACD 29 ELEKTRONISK BALETTMUSIK
ERIK XIV op. 45, 1969: I FÄNGELSET (IN PRISON), MANTELDANS (CLOAK DANCE), KRÖNINGEN CORONATION), STUREMORDET och VANSINNESSCEN (THE MURDER OF STURE and THE MAD SCENE), BOCKDANSEN (GOAT DANCE), SÄCKMORDET (THE SACK MURDER), TRASBRÖLLOPET och ERIK XIV:S DÖD (RAG WEDDING and DEATH OF ERIK XIV).
GUSTAV III op. 58, 1971: OPERAMASKERAD (MASQUERADE), SPEGELKABINETT (MIRROR CABINET), SKRATTSKÄRVOR (BROKEN MIRROR), IDYLL OCH PANIK (IDYLL AND PANIC), KONSPIRATION (CONSPIRACY), TJUSARKONUNG ("KING CHARMING"), MASQUE, COMÉDIE, DÖDSLÄGER (DEATHBED).
RISTNINGAR (ROCK CARVINGS) op. 44, 1969
GUNNAR PÅ LIDARÄNDE (GUNNAR OF LIDARÄNDE) op. 79, 1973: RINGDANS (ROUND DANCE), VID HAVET (BY THE SEA), BRÖLLOP (WEDDING), SMÖRSTÖLDEN (STEALING THE BUTTER), ÖRFILEN (THE SLAP), INFÖR TINGET (BEFORE THE COURT), AVSKED TILL HEMBYGDEN (FAREWELL TO HOME), STRIDEN OCH HALLGERDURS HÄMND (THE BATTLE AND HALLGERDUR'S REVENGE).
ACD 30 HORRORSCOPE
HORRORSCOPE op. 167, 1979
MIDNATTSTIMMEN (THE MIDNIGHT HOUR) op. 77, 1972: GENGÅNGARNATT (SPECTRAL NIGHT), DE HUVUDLÖSA DAMERNAS DANS (DANCE OF THE HEADLESS WOMEN), MONSTERMÅLTID (MONSTER MEAL), SEANS, SPÖKBAL (GHOSTLY BALL), SKRATTSYMFONI (LAUGHTER SYMPHONY).
DEN YSTRA KÄRLEKSJAKTEN (THE MERRY GAMES OF LOVE) op. 99, 1975
UPPTÅG I SOMMARHAGEN (PAGEANT IN THE SUMMER LANDSCAPE) op. 75, 1972
I LUDEN GROTTA (IN SHAGGY CAVE) op. 75, 1972
ODE FÖR VILSEN SJÄL (ODE TO A LOST SOUL) op. 66, 1972
HEAVEN BY NIGHT op. 94, 1975: COSMA NOVA, ROBBIE IS DANCING THE WALTZ, IONA – COSMIC GIRL.
WAVES OF DARKNESS op. 301, 1983
NATTMARA (NIGHTMARE) op. 56, 1970
Ralph Lundsten, tidig pionjär inom elektronisk musik och bild/ljudskapande i alla dess former! Redan 1959 startades bild- och elektronmusikstudion ANDROMEDA och därifrån har allt sedan dess strömmat det mesta av hörd och spelad elektronisk musik i Sverige – för många människor är just begreppet elektronisk musik (idag också kallad elektrofonisk och syntmusik) synonymt med Ralph Lundsten!!!
I den här utgåvan är samlat verk från sextiotalet och sjuttiotalet, den tid då hantverksskicklighet och ljudfantasi i studion också var en viktig förutsättning för gott musikskapande. På det området är Ralph Lundsten den erkända mästaren, då och nu mångfaldigt prisbelönad i både Sverige och utomlands!
Anders Oredson