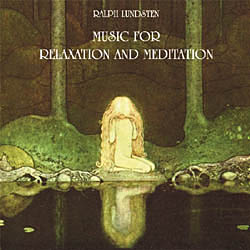 ACD 35-1 (dubbel-CD 2003)
Music for Relaxation and Meditation Den himmelska fridens ängd (The Region of Heavenly Peace)
Lovelight
Inledning till Vintersymfoni (Introduction to Winter Symphony)
I landet längesen (In the Land Long Ago)
Garden of Delight
Trance-Action
Stjärnesång (Song from the Stars)
Cosmic Song
Förlåt oss våra skulder (Forgive us our Trespasses)
Paradiset (Paradise)
Där somrar bo (Song of Summer)
Denna CD innehåller mjuk och melodisk musik, som hjälper Dig att slappna av och känna trygghet och livslust – något vi behöver för att utforska det bortom som allestädes skymtar.
Förutom en behaglig musikalisk upplevelse, har dessa kompositioner använts i de mest skiftande terapeutiska sammanhang för att häva ångest, olika slags rädslor och spänningar. Den har hjälpt människor med sömnproblem och använts av hjärnforskare för att träna upp människans kreativa hjärnhalva…
Genom sin klangsköna tidlöshet, har denna musik en möjlighet att beröra alla de som längtar efter en fördjupad livssyn. Vi lever i en kosmiska tidsålder, där tid och rum, ande och materia är ett och odelbart.
De fem första kompositionerna har en drömmande och avslappnande karaktär och de fem följande tar med lyssnaren till de dimensioner, där svar finns på frågor vi inte kan formulera…
Betänk att i var människa bor oändligheten och evigheten – må det bli hennes främsta längtan och mål att finna vägen till mötesplatsen!!!
This CD contains soft, melodious music that will help you to relax, feel safe, and have a zest for life – things that we need so we can explore the beyond – that which glimmers everywhere half unseen.
As well as offering a delightful musical experience, these compositions have been used in the most varying therapeutic contexts to soothe anxiety, fears and tensions. This music has helped people with insomnia and been used by brain researchers to train the creative side of the human brain….
Thanks to its tuneful timelessness, this music can touch everyone who longs for a deeper outlook on life. We live in a cosmic age in which time and space, spirit and matter, are one and indivisible.
The first five compositions are dreamy and relaxing, while the next five lead the listener into those dimensions that hold answers to questions we cannot even put into words….
Remember that infinity and eternity live inside each of us – let it be our highest longing and goal to find our way to where they meet!!!
ACD 35-2 (dubbel-CD 2003)
MINDSCAPE
Lyssnat På Mindscape Music
Drömvågor (Dreamwaves)
Sfärernas musik (Music of the Spheres)
Meetings
Min dröm har varit att skapa rena musikaliska tillstånd, som skänker vila och harmoni till den stressade och är en meditativ inspirationskälla för själens resenärer! Dessa melodilösa kompositioner blir till balsam för själen, genom sin kärleksfulla oändlighetsatmosfär.
Rogivande musikaliska tillstånd kan både öppna för en förhöjd och glädjefylld livskänsla, men också skapa en inre försonande stillhet – en känsla av frid, bortom världens larm.
I vår nutida miljö finns ingen tystnad. Gatubullret i den yttre miljön är så starkt att även miltals utanför en stad hörs samhällets störande brus. I den inre miljön finns allt från tickande klockor till massmediala störningsljud – lägg därtill den rytmiska ljudtortyr som förföljer oss överallt, i affärer och restauranger, i parker och på badstränder…
Även om MINDSCAPE-musiken spelas med en relativt låg lyssningsnivå, så försvinner vardagens störningsljud och den inre koncentrationen höjs! Lyssnar man i hörlurar på Sfärernas musik och har ögonen slutna, då svävar man i den oändliga rymden.
I dessa musikaliska tillstånd händer ibland undret: tid och rum, ande och materia blir ett och odelbart. Din själ öppnar sig, möter evighetens ljus och likt vårblomman som väcks av solen, knoppas och blommar den försonande och förlösande livskärleken!!!
Ralph Lundsten
Andromedar och Stjärnguide
My dream has been to create states of pure music that bring rest and harmony to stressed souls and are a meditative source of inspiration to spiritual travellers. Thanks to their loving, eternal atmosphere, these compositions without melody offer balm to the soul.
Soothing music can open the way to an elevated, joyful sense of life, but it can also create inner tranquillity and reconciliation – a feeling of peace beyond the confused noise of the world.
In our environment today there is no silence. The traffic noise outside is so loud that the disturbing hum of society can be heard many kilometres away from a town. Indoors there is everything from ticking clocks to the disturbing sounds of the mass media. Add to that the rhythmic noisy torture that follows us everywhere – in shops and restaurants, in parks and at the beach….
Even if MINDSCAPE music is played relatively quietly, the unpleasant noises of everyday life disappear and your inner concentration is improved. If you listen to the Music of the Spheres through headphones and with your eyes closed, then you will float in endless space.
In this musical state, wonders can sometimes happen: time and space, spirit and matter, become one and indivisible. Your soul opens up and encounters the light of eternity, and, like a spring flower awakened by the sun, life-giving love with its promise of redemption and deliverance will unfold and bloom!!!
Ralph Lundsten
Andromedan and Star Guide